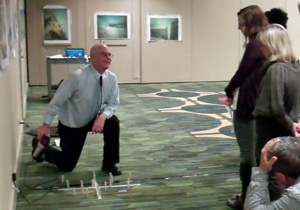 A great resource for understanding hurricanes and preparing for one can be found at Ready.gov a site that everyone should read for a great deal of emergency readiness information.
This site is an on going scientific study by Geologist David Jungblut. It is based on an independent study that I conducted with considerable on-the-ground field research over the past several years.
I have not asked for or received financial support for my observation, opinions and conclusion into Hurricane Katrina's Destructive Powers.
This investigation was conducted by following normal rules of the Scientific Method.
All observation, pictures, conclusions posted on this website remain the property of David Jungblut, Geologist.
e-book and Smartboard PowerPoint available, request via david@hurricanekatrinastudy.com
During the summer of 2005, David Jungblut spent time in New Orleans as Hurricane Katrina approached and later did a scientific investigation into the damage that the hurricane inflicted because homeowners' insurance claims were being rejected. Insurance companies claimed that all damage was due to flooding and not wind. David Jungblut pointed out that wind damage was visible. He wrote reports about his findings, all pro bono. Later he posted his findings at http://www.hurricanekatrinastudy.com/ that was available to homeowners, engineers and lawyers free of charge.
David Jungblut has a degree in Geology from Livingston College, Rutgers University. He worked for the United States Geological Survey focusing on stream flow hydrology for three years. David has done environmental consulting for radon and environmental sensitive land development in New Jersey. He spent time working in water and sewer treatment plants. For the past 21 years, he has taught science at Oakcrest High School in Mays Landing, New Jersey.
David Jungblut can be contacted at 1824 Dr. Foreman Drive Mays Landing, NJ 08330, Phone 609- 399-5845 or by E-mail: david@hurricanekatrinastudy.com , djungblut@geh.nj.k12us.com.
By: David Jungblut, Geologist
Teacher at Oakcrest High School
1824 Dr. Foreman Drive
Mayslanding, NJ 08330
E-mail: davidjungblut@hurricanekatrinastudy.com
Peer review was done by Joe Hochreiter, senior environmental scientist from Yardley, Pennsylvania, Dr. Steven Lyons.
Articles
Mississippi Evidence of Wind and Water Damage; Hurricane Katrina Wind Study Conclusions from Gulfport Mississippi to Ocean Springs Mississippi, by David Jungblut, December 2006
Hurricane Katrina Straight Line Wind Field Study; Southwinds Golf Course Area near Ocean Springs, Mississippi, by David Jungblut, December 2006
Scientific Methodology for Study on Wind and Water Damage During Hurricane Katrina, by David Jungblut, December 2006
Geological Principles that Apply to the Hurricane Katrina Study, by David Jungblut, December 2006
Homeowners Guide to Dealing with Hurricane Damage, by David Jungblut, December 2006
Reinventing Local American Corporations, by David Jungblut, October 2008
Oakcrest students innovate solutions to oil spill, by By Michael Miller http://www.pressofatlanticcity.com/communities/hamilton/article_debbd6e5-e99c-542f-b09a-8d70da1f5174.html?mode=story
Videos
CBS Evening News with Katie Couric, Kid Solutions to BP Oil Spill, http://www.cbsnews.com/video/watch/?id=6549408n&tag=contentMain;contentBody or Kid Solutions to BP Oil Spill June 4, 2010 Today was a very exciting day in the Oakcrest Science Department. A correspondent from the CBS Evening News with Katie Couric visited Dave Jungblut's 9th grade Physical Science class. Students were interviewed regarding their experiments and ideas on the oil spill in the Gulf of Mexico. CBS's interest in our school sprouted from an Atlantic City Press article (link above) published last week.
Downbursts and Microbursts During Hurricane Katrina From: GeologistJungblut | July 13, 2007 http://www.youtube.com/GeologistJungblut#p/a/u/1/KrYkdRpP-wk
Hurricane Katrina Study of Wind Damage from Microbursts and Downbursts by Geologist Jungblut From: GeologistJungblut | July 13, 2007 http://www.youtube.com/GeologistJungblut#p/a/u/2/tpLfXn2bPTY
Hurricane Katrina Study. Microburst, Downburst, Wind Water Study, Website From: GeologistJungblut | July 14, 2007 http://www.youtube.com/GeologistJungblut#p/a/u/0/RwmeXzltmmo
Simple Solutions to the BP Gulf Oil Spill, this investigative report by filed Oakcrest High School Falcon TV field reporter Adrianna Martinez deals with Oakcrest HS science teacher Dave Jungblut in Southern New Jersey, whose class, and himself, have come up with logical solutions to the oil spill in the gulf coast. Dave and his class were recently featured on ABC nightly news with Katie Couric for their solutions to the spill as well.
NEW TALK SHOW IS A FORUM FOR GETTING THE WORD OUT-IT INVITES GUESTS TO SHARE THEIR STORIES AND PROBLEMS, AND OUR HOSTS AND GUESTS PROVIDE THE RESOURCES AND SOLUTIONS TO THOSE EVERYDAY PROBLEMS IN OUR WORLD AND COMMUNITY. OUR FIRST GUEST IS SCIENCE TEACHER DAVE JUNGBLUTT WHO HAS A SOLUTION TO THE BP OIL DISASTER. http://www.youtube.com/watch?v=tYt0QM0eVh0
Presentations
Rutgers University, Piscataway http://www.dimacs.rutgers.edu/wst/
Hurricane Forensics
Presenter: Dave Jungblut 2006, 2007
Imagine your home destroyed and your insurance claim denied, what do you do? Geologist David Jungblut will present teacher and student-friendly lessons, labs and activities that demonstrated how he used geological and forensic inquiry techniques to discover straight-line winds from microburst activity took place during Hurricane Katrina that helped thousands of homeowners in Mississippi. Evaluate local and world wide environmental issues like land use risks and benefits in the face of global warming.
Should we rebuild New Orleans? Oakcrest High School, May 2008
Power Point Presentation was sent Ralph Avallone as per his request, Ralph@greenenergycouncil.com
Chess
Oakcrest Chess Team 1991 to 2010 Coach
South Jersey High School Chess League, President 1995 to 2006
Coach of the Year 2007
The New Jersey State Chess Federation (NJSCF), Board Member 2008-2010
Chess Tournaments at Oakcrest High School 1991-2010
Bridge
Oakcrest Bridge Team 2005-2010 Coach
ACBL Goodwill Committee 2008
Bridge Tournaments at Oakcrest 2006-2010