A few days after Hurricane Katrina devastated the Gulf Coast of the United States, David Jungblut a geologist and teacher at Oakcrest High School in New Jersey, traveled to Mississippi and New Orleans to help family members and ended up doing field research to determine if property damage was caused by wind or water. He also found evidence of wind events that occurred in many locations along the Gulf Coast during Hurricane Katrina as the category 3 hurricane made landfall. The pro bono research managed to help many homeowners recover wind damage reimbursements from their insurance companies.
David Jungblut's Hurricane Katrina Straight Line Wind Field Study produced several findings and conclusions on Hurricane Katrina's wind damage. Jungblut shows how homeowners can apply wind damage evidence when dealing with insurance companies. This study used the scientific method when researching wind and water damage when Hurricane Katrina made its second landfall on Monday, August 29 in southeast Louisiana. This example on how the scientific method is used when conducting research can be example used as an educational science lesson plan. Furthermore, Geological Principles that were used during the geologist's field research are explained.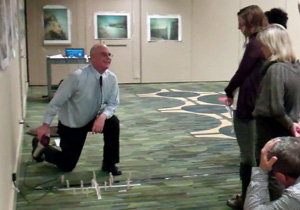 David Jungblut continues seeking creative ways to inspire real solutions to real world problems in his science classroom. Check out the Powerpoint classroom lesson plans that uses models and hands on activities.
David Jungblut added to his science curriculum by taking the research data into the classroom setting and creating engaging science lesson plans that have students finding evidence in photographs and drawing their own conclusions. Students interact with models that take up a large space in the classroom which allows them to see for themselves how buildings are affected by wind forces and flood water.
When the BP Oil Spill made headlines as oil spilled into the Gulf of Mexico, Jungblut found another opportunity to take a current environmental event and use it as a teaching moment. While federal and private engineers spent weeks trying out several ideas on how to stop the oil leak in the Gulf, students in Jungblut's classroom were creating their own solutions to stop the leak. One student's coupling idea turned out to very closely resemble the cement plug that ultimately stopped the oil leak. CBS National News with Katie Couric profiled this project on June 4th, 2010 during the segment, "Kid Solutions to the BP Oil Spill".
Jungblut finds creative educational methods to inspire real solutions to real world problems in his classroom as the Japan's earthquake, tsunami and nuclear disaster became group learning activities for his students. During the past year, the derecho and Superstorm Sandy have led to new teaching techniques and studies.
A great resource for understanding hurricanes and preparing for one can be found at Ready.gov a site that everyone should read for emergency readiness information.